Laser Beam Profile, Pulse Shape, and Velocity
In TEMPROFILE there is incident on the stack (either from the top or from the bottom) a circularly symmetric, monochromatic beam of light (wavelength = l0) The radial profile of the beam's intensity distribution is allowed to be either Gaussian or user-defined. In the first instance the user need only specify the 1/e radius of the Gaussian beam. In the second case the entire intensity profile must be entered, point by point, either from the keyboard or from a data-file residing within the working subdirectory.
The beam incident on the multilayer stack has a fixed spatial profile, but its power P (i.e., integrated intensity over the beam's cross-section in the XY-plane) can vary with time t (see the figure below). The beam is also allowed to move with constant velocity V over the stationary stack. Here it is generally assumed that the incident optical power is zero prior to t = 0, the beam center coordinates at t = 0 are (x, y) = (0, 0), and the beam moves along the positive X-axis.


(a) Spatial intensity distribution of the Gaussian laser beam throughout the multilayer stack. This is a circularly symmetric Gaussian profile, having radius r0 at the 1/e (intensity) point.
(b) A typical time-dependence of the power of the laser beam, P(t). This piecewise linear function is identified by the coordinates of its corner points, (ti, Pi).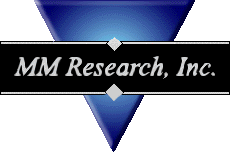 Home | About MM Research, Inc. | Online Publications
Diffract | SIM 3D_Max | Multilayer | Temprofile

© Copyright 1987-2011, MM Research, Inc. 5748 N. Camino del Conde, Tucson, Arizona 85718