Pricing and Service Policy
The Basic TEMPROFILE package contains a 3.5" installation diskette, one copy of the user's manual, and six weeks of free consulting and support services from MM Research, Inc.
The 52-page manual contains complete information about installation and operation of the program, certain technical details, and several examples and test runs to help familiarize the user with the program. Consulting and support services for the first six weeks after the purchase of the program are provided (free of charge) through our fast-turn-around fax and e-mail.
The basic TEMPROFILE package is priced at $3000. Additional copies of the manual may be purchased at $50 per copy. Extended consulting and support beyond the first six weeks are also available at the rate of $500 per year, or $50 per incidence. A 50% discount on all these packages applies to educational institutions within the United States.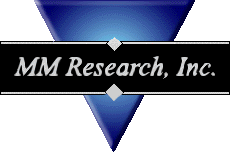 Home | About MM Research, Inc. | Online Publications
Diffract | SIM 3D_Max | Multilayer | Temprofile

© Copyright 1987-2011, MM Research, Inc. 5748 N. Camino del Conde, Tucson, Arizona 85718